Marketing Essentials for Your Business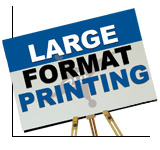 In marketing your business, you need to put your best foot forward. We'll help you do that with our trade show and direct mail packages. From post cards, letterheads, and full color mailers, to digitally printed poster-size signs and graphic walls for your booth, Radio Gate will help you stand out from the crowd.

We also know that at trade shows and seminars, you want to get your name out. We offer many different everyday household and business items that can be branded with your company logo. People need and use pens, mugs, and keychains all the time, and having your logo on such items is a nice subtle way to advertise over and over and over again! Don't have a logo or creative slogan? Radio Gate can help you there too! Contact us today, or take a look at our Promotional Item service for more details.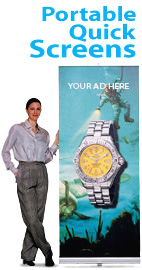 Special Offer!
Need something BIG and eye-catching that can be set up and disassembled quickly? Then our Portable Quick Screen offer is for you. These handy, retractable display posters start at just $950. Simply unpack, erect, and unveil! Disassembly is just as easy. Contact Radio Gate for details.